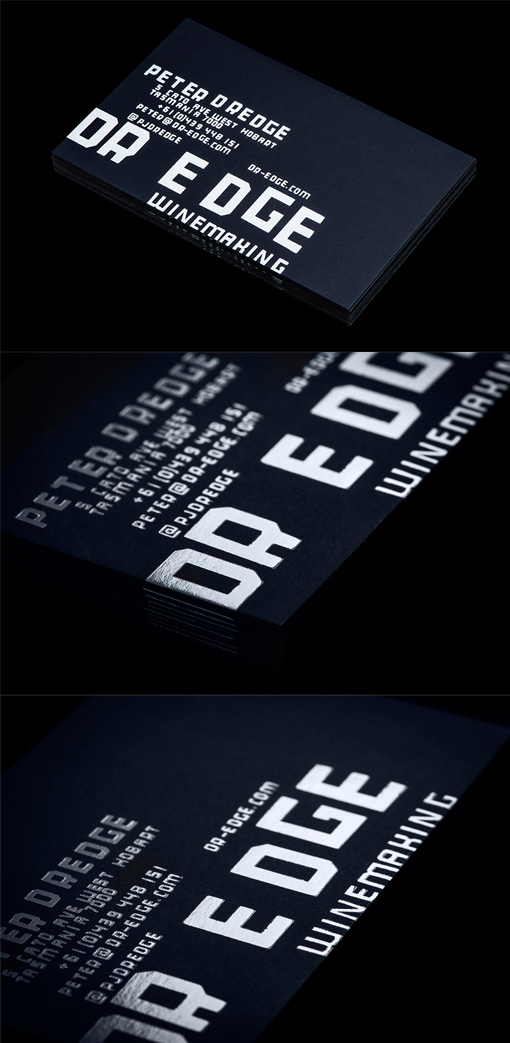 05.09.2016
Stylish and Edgy Black And White Foil Business Card For A Winemaker
Corbershop is a design agency based in Adelaide, Australia. They were commissioned to design a set of business cards for a boutique producer of Tasmanian fine wines. Here's what Cornershop have to say about their project, which involved using white foil (for a truly opaque white) on a saturated, dark, high quality card stock.
"Peter Dredge has seen the dark side; both personally and professionally in his journey as a corporate winemaker for over 15 years. Dr Edge is the brooding alter ego of the man himself. It is a brand Peter created to take the seriousness out of the wine industry and, more importantly, out of life. "Life is not that bad. Share a bottle or an experience with someone, he says." In the future, Peter wishes to grow Dr Edge as a non-profit brand, donating all profits to a mental health awareness charity of his choosing. This idea is driven by personal experience and most certainly friends who have been afflicted by mental health issues.
Cornershop were appointed to bring Dr Edge to life; complementing a portrait artwork (and face of the brand) supplied by the client. Our solution features a custom designed typeface that reflects the tone of the brand. Dr Edge is honest, hand crafted Tasmanian Pinot Noir produced in small quantities."
Design by Cornsershop
Print by Peacock Design & Print
For Dr Edge