Metal Business Cards
Metal business cards are becoming more popular because of their durability, scratch proof and they're fade resistant. Most metal business cards are made of stainless steal and have a gold, silver, aluminum or brass finish. Your contact and business information will be etched onto the card that's known as photochemical etching. The price for making metal business cards will depend on how thick you want your card to be and the type of metal used. If you're purchasing in bulk, most companies will give you a discount. The necessary information is etched on the card using a process known as photochemical etching. The cost of the card depends on the metal used and the desired thickness of the card.
Business owners want potential clients to not only be impressed with the business card, but they want them to keep it. Most business cards just end up in the trash. With a metal business card, you won't have that problem anymore. Using business cards is the best way to stand out in this tough economy.
Similar to solid business cards, metal business cards have round corners that make the card feel like it's a credit card. Your design options are endless. You can just from many different colors, photos and high-resolution graphics.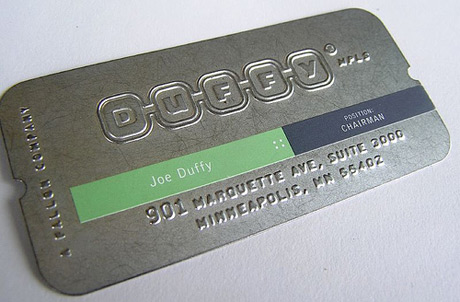 Creating a well-designed and stylish business card will be more appealing on the eyes for potential clients. It's tough out there right now with the economy the way it is and you need to stand out as much as possible. If the card looks great, it'll stay in the wallet instead of the trash. This is what any business owner wants. Want to stand out among the other millions of businesses? Create a stylish, original and innovative business card.
It is little things like that can and will make the difference when you're meeting new people for the first time when you're networking. Networking is the key in any new business startup. Your business card can make or break any business relationship you could potentially earn.
>> Business Card Design Gallery <<