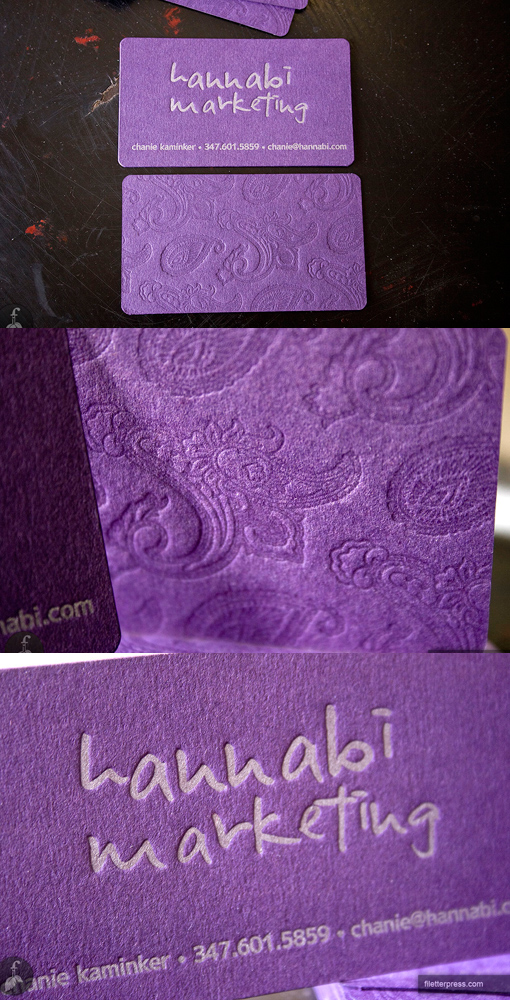 15.12.2011
Hannabi Marketing
Chanie Kaminker approached us looking for a unique business card. The font had already been decided, the paper color was to be purple, and there was to be some kind of pattern on the back. We whipped a few drafts and after a couple of rounds of revisions we had produced exactly what was expected: yet another unique letterpress business card.
We used some 80lb purple cover stock. Each side was printed individually to allow for the most impression possible on 80lb paper, and then we duplexed it together to bring it up to 160lb. I was initially worried about the paper thickness, but the 80lb duplex worked quite wonderfully. The end result was very good quality and sturdy business card. The front is printed 1 color with silver metallic ink. The back is printed with a clear varnish to present a tonal tint using the paper's natural color. Which produced a very clean and subtle look.
Every good print is polished off with a good cut. These particular cards were die-cut with 1/8″ rounded corner die. We find that corner rounders really don't do anything but mutilate the papers edge. Especially with the cotton paper. I didn't want to ruin these cards, so we opted to die-cut in order to produce 4 clean and perfect corners on each and every card.
By Fresh Impression Letterpress Studio
For Hannabi