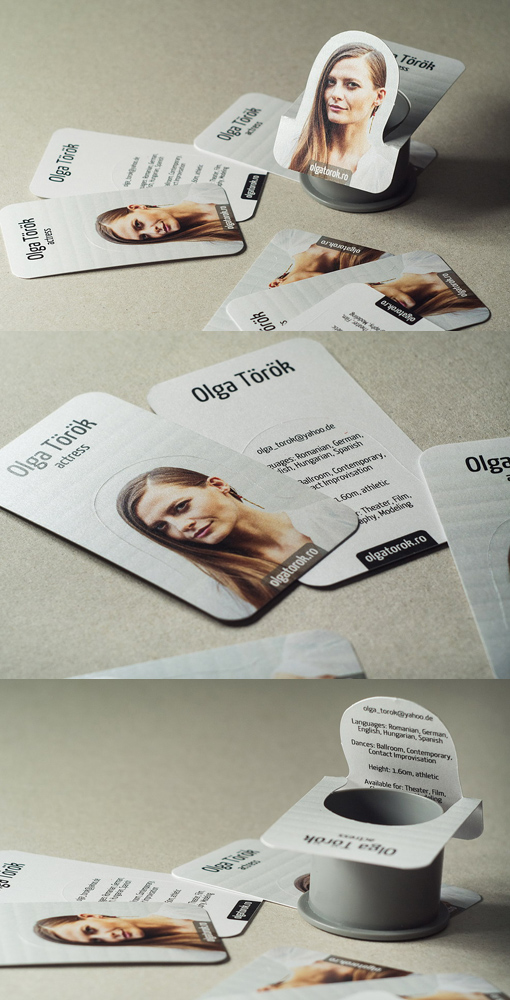 13.09.2013
Actress Business Card
How it started
As usual old friends come to us with interesting and challenging projects. We are a curious bunch here at Xceed - We design, so we accepted the challenge to design and produce a cool business card.
What inspired it?
The card is inspired by pop-up books and various projects done by other talented people before us. We felt the need to show our approach to this kind of project and leave our fingerprint on the market. We were here! :)
The creative process
First of all we needed a proof of concept and started by sketching a portrait and making cutting experiments on our reliable Mimaki cutting-plotter using all types of heavy paper laying around our studio.
We liked the results so we took our friend out on a photo session.
She's a very talented actress so we needed to capture her personality and expressions. It was a great walk through town, good weather and mood! :)
After we chose the right photo, we finished the graphics concept and built the print/cut layout. We sent it to our partners for them to print on various heavy weight paper so we can test and calibrate the cutting.
After ironing out the issues that appeared, we sent the final batch to the printers. More or less this was the process that lead to the results you are now seeing.
Where was the printing done?
We printed at our friends from PrintPress.ro. We collaborate since 2006 and during these years went through different interesting projects that raised a lot of technical challenges. Bottom line, they're solid business partners and friends.
Technical Challenges
We customized a Mimaki Cutting-plotter knife so we can cut cardboard.
Because we encountered problems in cutting the full card, we only cut the shape around the head. The rest was done using a heavy duty electrical guillotine and corner rounding machine.
The material used
We tested various papers and finally chose Fedrigoni Sirio Pearl White, 300 g/sqm.
It's lighter than Colotech matte paper, has a pearl finish and great rigidity.
Production costs
Printing and finishing cost per 100 pieces is 80 EUR.
Graphic design and photo shooting fees not included.
For Olga Diana Török