Business Card Design Tips
Creating a business card is like navigating a minefield of design hazards: you have to include multiple types of contact info (without overwhelming the client), incorporate super hi-res images (on a 3" x 2 1/2" surface), and somehow leave plenty of white space (without making the card look empty).
Chances are, you're going to find yourself frustrated with the design process at some point. And while it's tempting to just slap some contact info together and call it good—or to download the same template that everybody and their grandmother is already using—these short-cuts aren't the answer. You need an original design that's going to impress your clients for years to come.
Whether you're creating a business card on your own or working with professional design services, you can create a highly custom business card that your clients will love. Get started with these great tips for designing clever and cool business cards: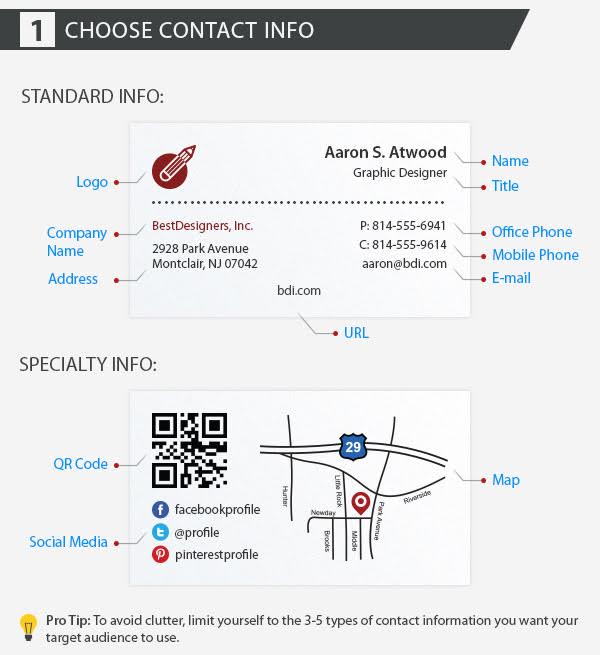 Business cards exist to help people contact you—so you want that information to be up-to-date. Make sure the info you provides still works. Dead social profiles or broken QR codes render your card useless, since the people who want to connect with you can't.
You'll also want to ask yourself, "Is this necessary?" You don't need to include a street address if you want people to shop online. But to encourage visits to a physical store, you'll need the address—and maybe even a map to help people get there. Decide which contact info works best for your brand, and only include that.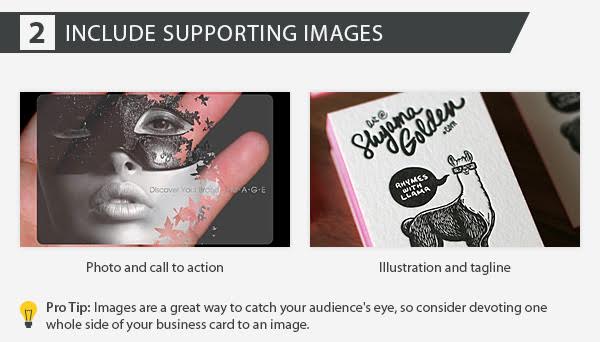 You know the saying, "A picture's worth a thousand words." Well, a picture is the only way you'll ever cram a thousand words onto a 2 1/2" x 3" piece of cardstock. Custom images also increase brand awareness because they're easier to recognize—and not to mention they just look cooler.
A good image should reflect your brand's identity. It could be a play on your company's name, a picture of your product, or anything else that speaks to who you are—as long as it's relevant. You can see how other people are using images and find inspiration on CardObserver.com.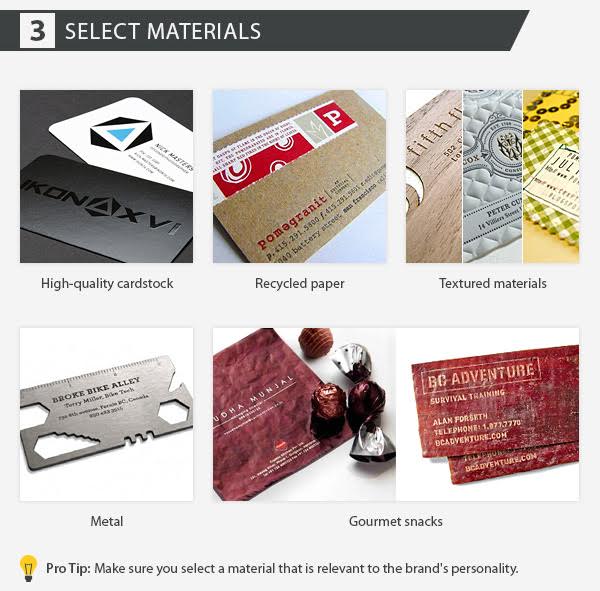 While business cards are traditionally made of paper, you can use different materials. Wood, leather, and fabric offer durable options with unique textures. Some businesses are creating metal tools that just happen to have contact info on them. Others are even printing their info onto gourmet snacks (or at least the snack packaging) to give clients a tasty treat.
These materials are more expensive, so it might make more sense for you to stick with paper cards—with a twist. Today's paper cards are made of higher quality, thicker cardstock. Recycled cardstock is also a great option for the eco-conscious.
Want to see more tips for creating a great business card? Check out 8 Steps to Design the Perfect Business Card to learn about custom die-cuts, imprint methods, and more!
>> Back to the Design Gallery <<