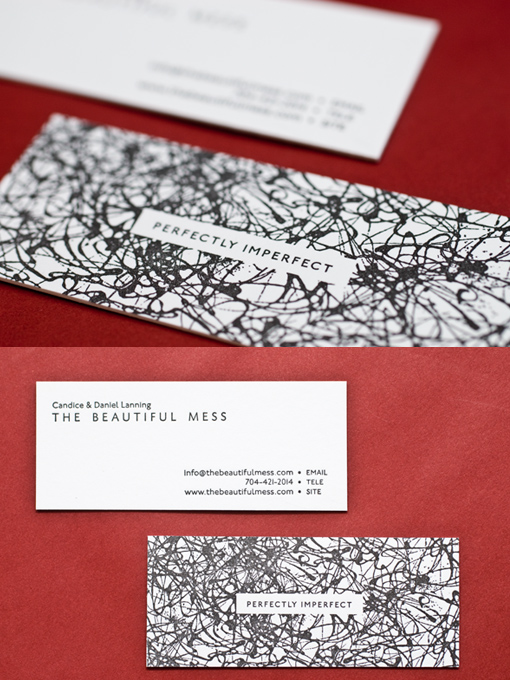 08.02.2011
The Beautiful Mess
Two words: chocolate syrup. Keep those in mind as you read up about our newest branding adventure, The Beautiful Mess. When company owners/photographers Candice and Dan Lanning first came to us, they were in a different kind of mess – a branding mess. They had a great company, loved what they were doing, and were building a good reputation in the Charolette, North Carolina area, but Candice and Dan were in need of a branding makeover – something that matched the quality of their growing business. We're so glad they decided to come to us! From a designer perspective, we absolutely loved their name. It matched perfectly with their style and perspective towards photography. Candice and Dan see life as a "beautiful mess," acknowledging the beauty of life's imperfect moments; you know, the goofs and spills and tumbles that can make a photography session transform from something over-choreographed into something touchingly funny or moving. This is the very perspective that the husband and wife team wanted to communicate with their branding: the beauty of life's unscripted moments. Our challenge was to turn the idea of a "beautiful mess" into a complete brand. We also needed to incorporate Candice and Dan's own ideas in regard to their branding – something modern, clean and clever. After some false starts in the drafting process, Ashley did what any girl would do … she turned to chocolate. Remember the chocolate syrup? Well, therein lies the secret to the new look for The Beautiful Mess. What more beautiful mess could there be than a chocolate syrup spill? Think about it – if you accidentally dribble a bit of chocolate syrup on the counter, you don't go for the paper towels. Nope. You discreetly wipe it up with your finger and eat it … you know you do! Turns out, Chocolate syrup makes for really beautiful abstract art as well. Check out a few behind-the-scenes photos of Ashley's process. After a bit of trial and error, The Beautiful Mess' new branding look was complete. It's a perfect fit for Candice and Dan's company and their unique outlook on photography – a brand so delicious, you want to eat it up. Have a taste of The Beautiful Mess.
By Luxecetera
Inspired by this design?
CardObserver features the work of the most creative, talented designers from around the world. We can connect you with a great designer to help bring your ideas to life.