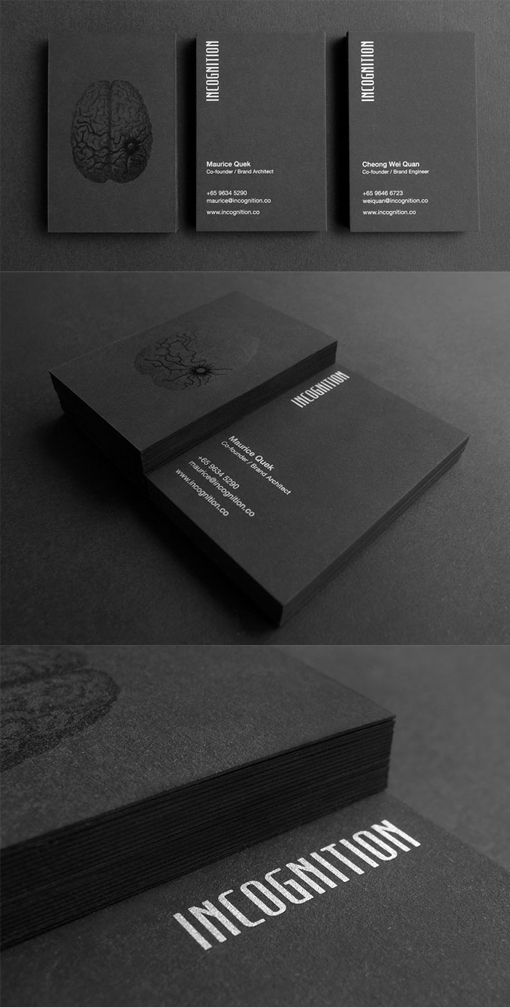 23.07.2014
Dark And Mysterious Inspired Black Business Card Design
This business card was designed for a brand consulting agency which specialises in a psychologically focussed approach to branding. The logo for this company is an intriguing image of a brain scan with a bullet hole layered over the top. The impact area of the bullet hole is right side (creative side) of the brain with fracture lines from the bullet hole spreading over into the left (rational) side of the brain. The overall effect conveys the idea that the company uses creativity to influence the rational decision making part of the brain.
The logo was printed in black on thick black card stock. The bullet hole and its fracture lines were printed with an overlay of a spot UV varnish which gives them dimension and makes them stand out against the black on black printing without actually using any colour on this side of the card. On the back of the card details are printed in a matte silver ink which keeps together the understated and sophisticated look of the card whilst making sure the details are easily read.
By Staci Paul
For Carabiner
Inspired by this design?
CardObserver features the work of the most creative, talented designers from around the world. We can connect you with a great designer to help bring your ideas to life.