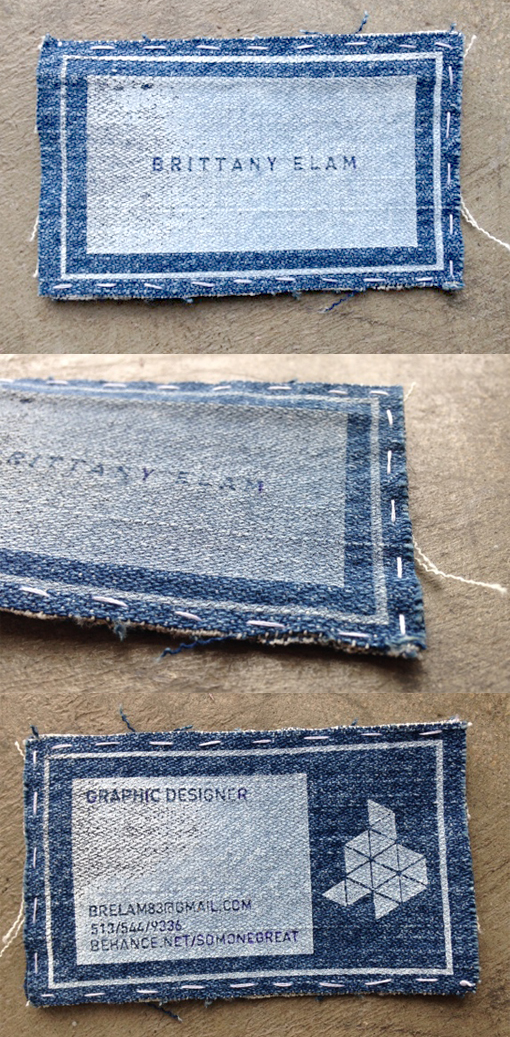 19.05.2014
Creative DIY Screen Printed Jeans Business Card For A Graphic Designer
As a young and up-and-coming graphic designer Brittany Elam designed and made her own business cards. Whilst doing a screen printing course as part of her design schooling she came up with the idea of making the cards out of fabric salvaged from a pair of her dad's old jeans. She printed opaque white paint onto the right side of the fabric and loved the effect of the white over the denim colour. Then she sewed the two layers together to make the front and back of the card a whole piece. The ragged unfinished edges add to the charm of the cards and being made of well-worn fabric gives them a great texture. A DIY project which was cheap to execute and gives a unique result.
For Brittany Elam
Inspired by this design?
CardObserver features the work of the most creative, talented designers from around the world. We can connect you with a great designer to help bring your ideas to life.