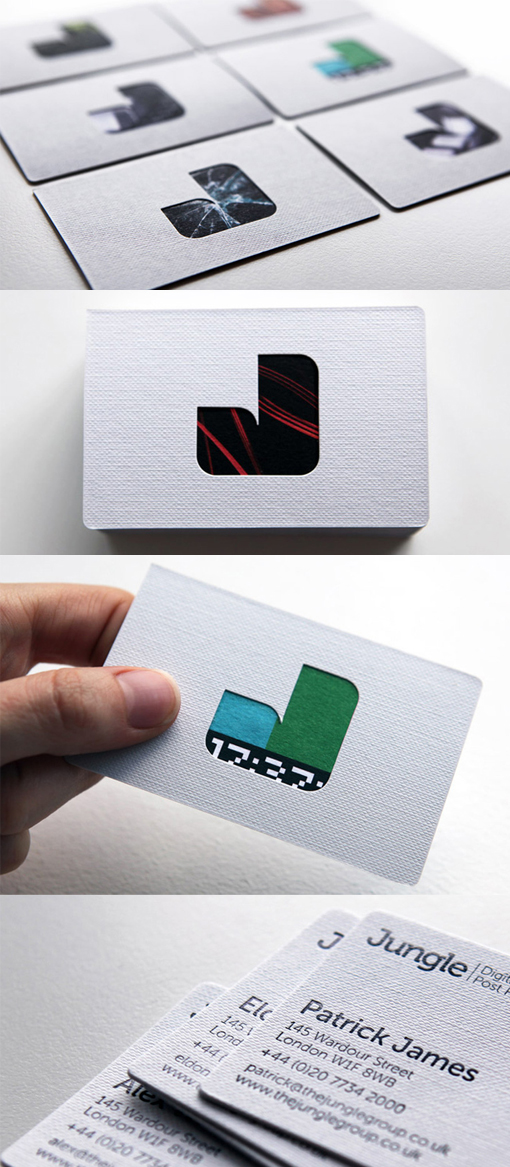 07.08.2014
Clever Three Layered Die Cut And Textured Business Card Design
When seven sound and visual design studios merged under the one name a new set of business cards was needed which could reflect the variety of creative skills which existed under the Jungle name. This clever set of cards was devised which keeps the logo shape the same but allows for a different colour or pattern to be used within that shape, making each card unique but still keeping the recognisable brand consistent throughout. The cards are made of three layers which have been laminated together to make the finished product. The backs of the cards are printed on an intriguingly textured white card stock. The front of the cards are also printed on the same textured stock but they feature a die cut window which allows the inner thin layer of colourfully patterned card to show through. The contrast between the smooth, patterned inner layer with the plain white but heavily textured outer layer adds its own extra dimension to the design.
By Rob Pratt
For Jungle
Inspired by this design?
CardObserver features the work of the most creative, talented designers from around the world. We can connect you with a great designer to help bring your ideas to life.