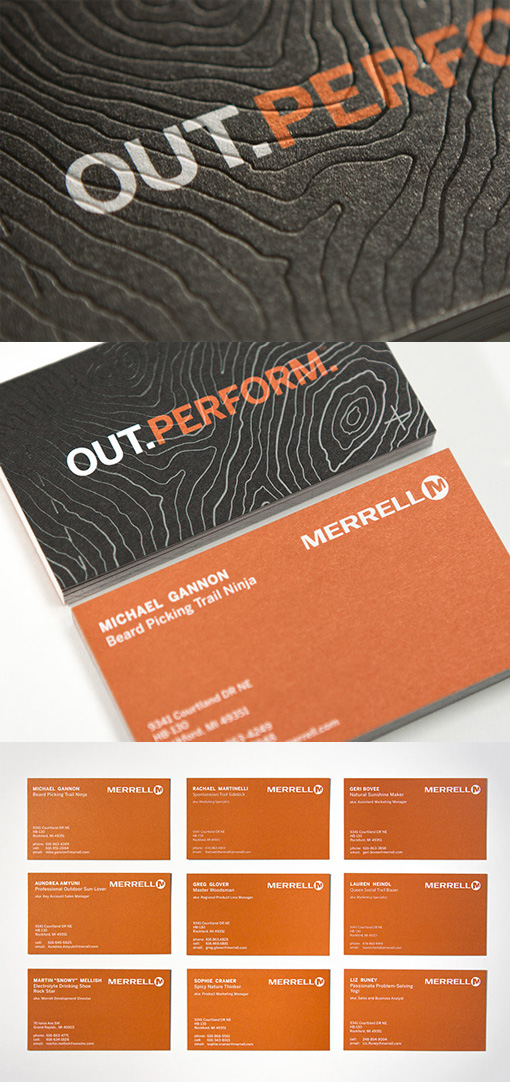 26.03.2015
Textured Topographic Map Business Cards With Humorous Self Chosen Fictitious Employee Job Titles
The design of these business card is remarkable in its own right - the use of letterpress to create a textured topographic map on the front of the card works particularly well for this company, which specialises in outdoor wear. The added bonus with these cards is the humorous element that's been added to them - using a form where employees picked quirky descriptive words from three categories they could come up with bizarre and hilarious fictitious job titles for themselves which were printed on the cards. These included gems such as "Beard Picking Trail Ninja", "Queen Social Thrill Seeker" and "Spicy Natural Thinker". The person's real ob title could be added as an "a.k.a" if they wished. The combination of a card with serious design features with lighthearted humour shows that the company is anything but bland and has many imaginative and creative facets.
Design by Michael Gannon
For Merrell
Inspired by this design?
CardObserver features the work of the most creative, talented designers from around the world. We can connect you with a great designer to help bring your ideas to life.