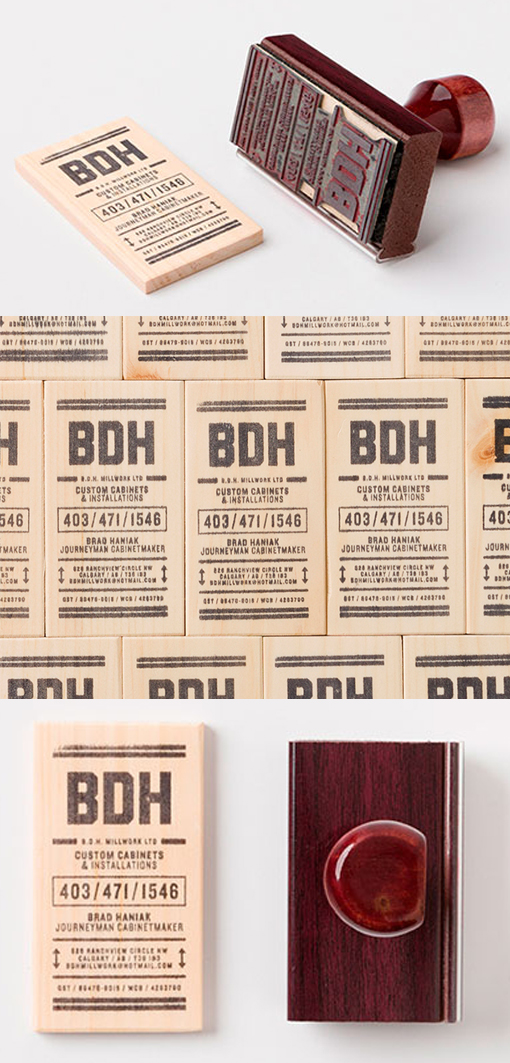 24.04.2014
DIY Hand Stamped Wooden Business Cards On A Budget
Brad Haniak, journeyman cabinet maker and owner of BDH Millwork, needed a business card which would be memorable and which would reflect his abilities as a craftsman but which would not be expensive to produce. This would normally be a bit of an ask as unusual and bespoke business cards usually do involve expensive printing or creative processes. Hans Thiessen came up with an excellent idea which, despite being essentially handmade, is not too onerous to produce, is cheap and uses materials which the owner already had on hand. A custom stamp with Brad's details in a no-nonsense, easy to read typography with a vertical layout was created and this, along with the design services, represented the main cost of the cards. The stamp was then used on scraps of wood which were already in the workshop and which would have otherwise been thrown out. The result is a low cost business card which looks like it was custom made by a high end printer! The total cost was just $40 and the stamp can be used over and over again.
For Brad Haniak
Inspired by this design?
CardObserver features the work of the most creative, talented designers from around the world. We can connect you with a great designer to help bring your ideas to life.