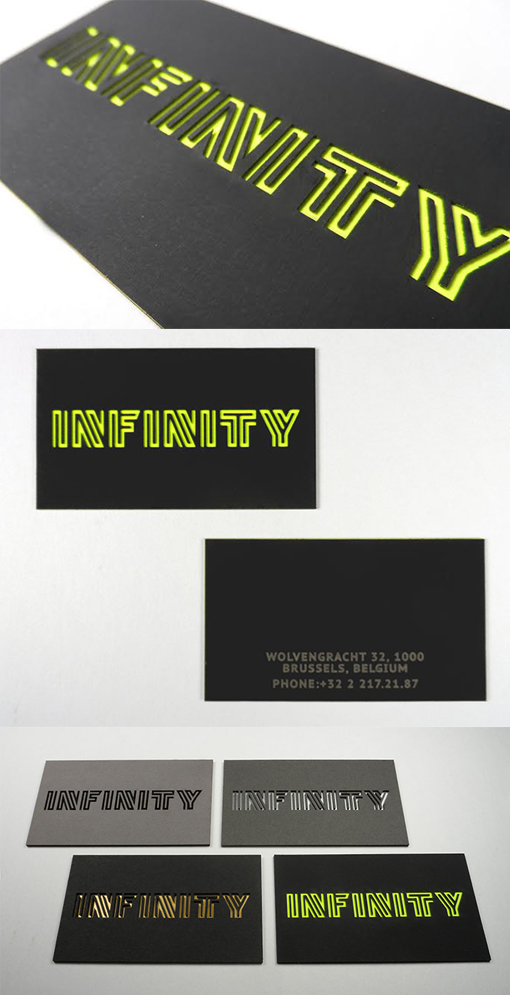 25.08.2014
Clever Laser Cut And Duplexed Black And Neon Business Card Design
This business card design uses a clever combination of laser cutting and duplexing to create a card which has texture, colour and lots of impact. An intricate laser cut design picks out the logo on the front of the card, using a sturdy black card stock. Using a process known as duplexing, a bright neon coloured card has then been laminated to the black card to show as a contrast through the laser cut areas. A third layer has then been laminated to the back to sandwich it all together, making this technically a triplexed card as there are three layers. Having the bright inner layer of card show through is not only visually striking, these cards also have texture and depth to them which makes them a great deal more interesting to look at and handle than the same design printed as a standard flat print. Several colour and card combinations were tried out with the owner of the cards selecting the neon version as the ultimate design.
For Infinity
Inspired by this design?
CardObserver features the work of the most creative, talented designers from around the world. We can connect you with a great designer to help bring your ideas to life.