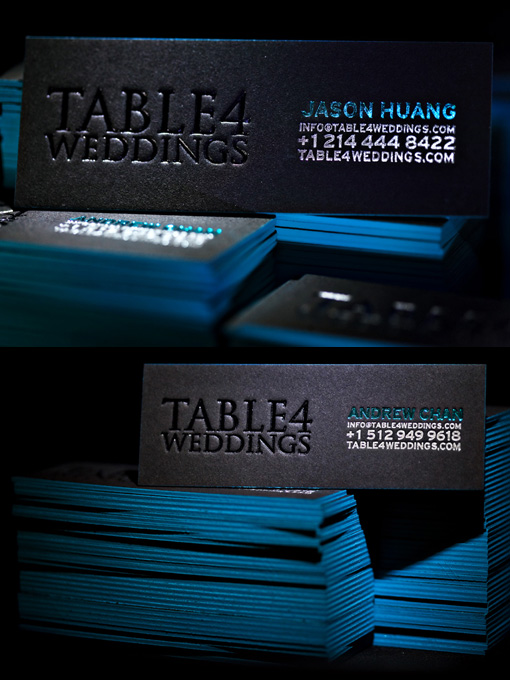 05.07.2012
Black & Blue Letterpress
Amazing black with blue-edged letterpress design by Studio Z. OK here is the lowdown: Black, super-thick (over 1/16″ thick) Museum Mounting Board goes through the Heidelberg Windmill three times: One time for gloss foil for "Table4 Weddings," so it is just pressed in very deeply with only the shine of the foil, no color, merely the shadow and mystery that can only belong to Huang/Chan. Second time for their names, in turquoise metallic foil. Third time for the actual information, in a sort of not-too-shiny silver foil. That is the letterpress printing part, three foils. Then we have to die cut each one. And then we send them to the edge painters who live far away. This is the coup de gras, the extravaganza of all business-card time. Brilliant turquoise matte ink applied along the edges of each and every card. ACK! So how many of you can't say they don't like letterpress?
For Table 4 Weddings
Inspired by this design?
CardObserver features the work of the most creative, talented designers from around the world. We can connect you with a great designer to help bring your ideas to life.