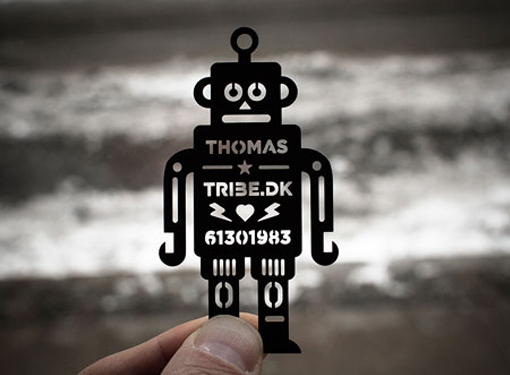 14.04.2014
Awesome Laser Cut Robot Stencil Business Card Design
Laser cutting is a versatile and useful technique which has a huge scope for creative use to shape and engrave a variety of interesting materials. As such it's become quite popular for producing unusual business cards which would have been either very expensive or impossible to produce via die-cutting, which works best for simpler shapes. Here, the designer has really used the potential of laser cutting to its fullest with this complex shape. Despite the intricacy of the stencilled design the robot shape and the text are clearly communicated and the card is easy to read. The resulting card is unique and intriguing so there's no doubt that it will generate interest. At the same time, as an inexpensive material has been used (just thick black card stock) it's economical to produce a set of these cards even though they are clearly a long way from being just a 'standard' business card.
For Tribe
Inspired by this design?
CardObserver features the work of the most creative, talented designers from around the world. We can connect you with a great designer to help bring your ideas to life.